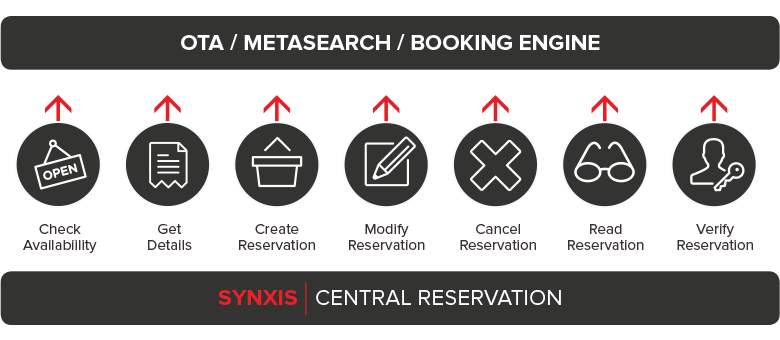 Introduction
This section provides information to know before you start to use the Channel Connect specification.
Getting Started
This guide assumes an advanced working knowledge of HTTP, SOAP, web services, XML, and the client application platform/programming used to consume these web services. We do not attempt to explain these basic concepts.
XML is expected to be extensible; application expects XML message format will work even if new data is added. It is not a static, fixed file format. Hardcoding must not be used since additional elements may be added as the system evolves, for example TPA Extensions or sub-elements not currently in use.
Shopping APIs
Hotel Availability - This method provides the ability to search single or multiple properties for detailed availability and pricing information.
Get Room Inventory Counts - A channel manager can use the HotelInvCount messages to retrieve from SynXis CR all types of room counts for a hotel.
Hotel Descriptive Content API
Hotel Detail - This method uses the OTA_HotelDescriptiveInfoRQ message and retrieves a robust list of specific hotel descriptive data.
Booking APIs
Availability, Rates, & Inventory (ARI)
As availability and rates change in the SynXis system, SynXis will send ARI Upload messages to an OTA system. The messages are contained within a SOAP envelope and follow the HTNG 2010A specifications.
When practical, updates will be grouped together to send as few messages as possible. Messages can be sent synchronously or asynchronously, depending upon the client systems preferred method of communication.